Serves 1 as a main dish or 2 as appetizer
Ingredients:
3 heads of red and white chicory, washed
2 apples, finely sliced
2 tablespoons of hazelnuts, roughly chopped and toasted
100g Stilton of other blue cheese, crumbled
For the dressing:
Instructions:
STEP 1
In a shallow bowl, combine the chicory leaves and apple slices.
STEP 2
Sprinkle the chopped hazelnuts & Stilton over the chicory and apples.
STEP 3
Drizzle the dressing over the salad and serve immediately.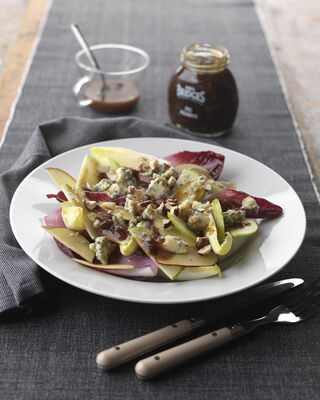 At Le Gourmet Central, you can find all types of unique gourmet food including authentic Iberian cured ham from Spain, gourmet risottos, truffles specialties and so much more.
To find the best gourmet foods and gift baskets online, begin your search at legourmetcentral.com.