6 servings
Ingredients:
2 tablespoons unsalted butter
2 tablespoons of Extra Virgin olive oil
3 cloves garlic (minced)
5 boneless, skinless chicken breasts (cubed)
1/2 teaspoon salt
1/8 teaspoon white pepper
1 cup heavy cream
9 oz of pesto
1/4 cup freshly squeezed lemon juice (divided)
1 teaspoon grated lemon zest
2 cups frozen baby peas
1/3 cup freshly grated Parmesan cheese
Instructions:
STEP 1
Bring a large pot of salted water to a boil. Add pasta to the boiling water and cook until al dente according to package directions.
STEP 2
Cook pasta in salted water. When pasta is done, drain well and keep warm. Drain cooked pasta in a colander. Meanwhile, cook the chicken. In a large saucepan, combine the butter, olive oil, and garlic over medium-high heat.
STEP 3
When garlic begins to sizzle, add the chicken cubes and sprinkle with salt and pepper.
STEP 4
Add the chicken cubes to the butter and sprinkle with salt and pepper. Stir over medium heat until chicken is almost cooked through, about 4 to 6 minutes.
STEP 5
Stir in the cream and bring to a simmer. Reduce heat to low. Add cream to the chicken mixture in the pot.
STEP 6
To the chicken mixture, add all but 3 tablespoons of the pesto, 3 tablespoons of lemon juice, the lemon zest, and Parmesan cheese.
STEP 7
Toss over medium heat until chicken is thoroughly cooked and the mixture is hot. Add peas and cook for 2 to 3 minutes longer until just warmed.
STEP 8
Place the warm pasta in a serving bowl and top with the chicken mixture.
STEP 9
In a small bowl, combine the remaining 3 tablespoons pesto with the remaining 1 tablespoon lemon juice. Drizzle the lemon pesto over the pasta and chicken.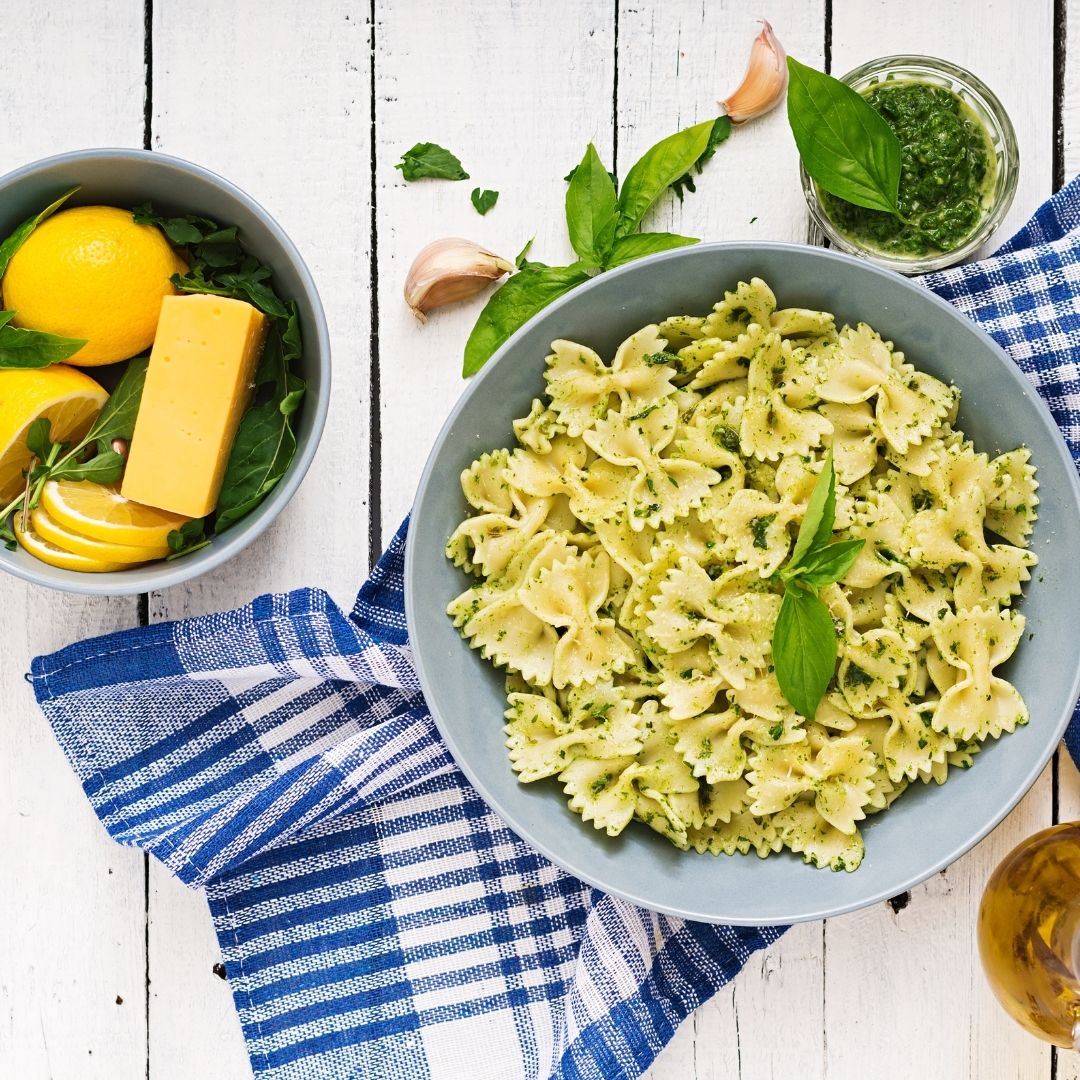 At Le Gourmet Central, you can find all types of unique gourmet food including authentic Iberian cured ham from Spain, gourmet risottos and pasta from Italy, truffles specialties and so much more.
To find the best gourmet foods and gift baskets online, begin your search at legourmetcentral.com.