Spain has a beautiful cuisine, and it's thanks to its rich agricultural traditions. From cured meats to wine, and from olives to seafood — Spanish food shines for its quality and vibrancy.
Amongst the country's best-kept culinary secrets, there's cheese. There are dozens of types of cheese in Spain, and they all represent a town or region. Thanks to cheese, you can travel to Spain with your taste buds! Here are our favorite cheese styles in Spain — all worthy of getting to know better. Did we miss your favorite Spanish cheese? Let us know!
1. Manchego
Manchego is, without a doubt, the king of Spanish cheese; it's larger than life. This sheep milk's cheese comes from the vast La Mancha region in central Spain, and it's one of the first cheeses in the country to be protected with its own appellation.
Manchego can be young and creamy showing with a buttery texture, or it can age for a few months. Aged Manchego is a life-changing experience; the cheese is firm and savory, umami-rich and fragrant, in a good way.
The types of Manchego include Fresco (fresh), Semicurado (semi-firm), Curado (cured semi-firm) and Viejo (aged for 1-2 years.)
Wine pairing: Tempranillo Reserva or Gran Reserva.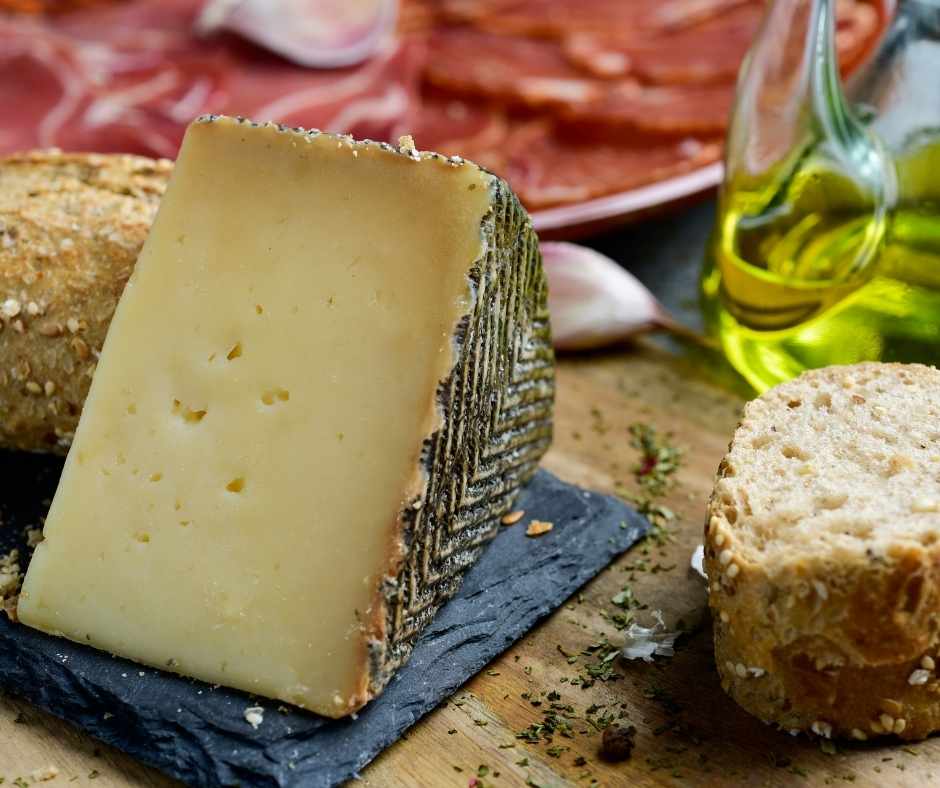 2. Idiazabal
In Northern Spain, the Basque Country and Navarre have their own cheese specialty, Idiazabal. This type of Spanish cheese earned "Best European Cheese made with Sheep Milk" a few years ago, and it's cherished across the continent.
Idiazabal shares similarities with Manchego; they're made with sheep's milk and can be enjoyed young or exquisitely aged. This one's nutty and buttery, and sometimes smoky, thanks to a special curing process.
This is your go-to semi-hard cheese for cheese boards, as it's compatible with briny food and sweet compotes.
Wine pairing: Priorat red blends.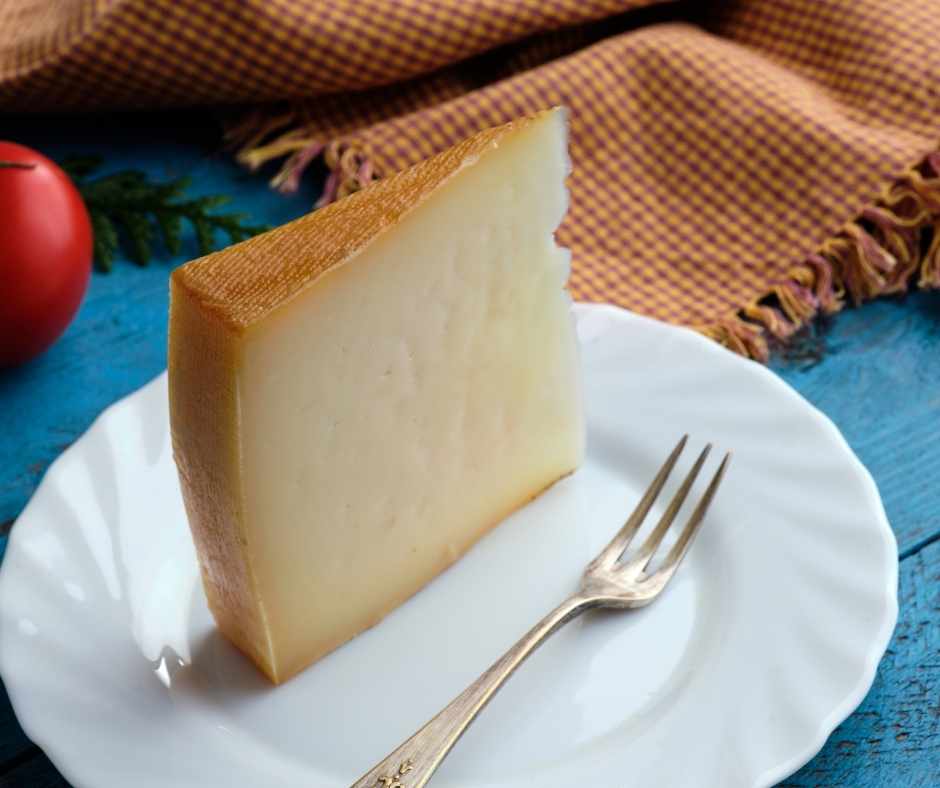 3. Tetilla
This unique cone-shaped cheese resembles a breast, which gives it its unusual name. This is a specialty in Galicia, the "Green Corner of Spain," and it's made with cow's milk.
Tetilla is often enjoyed young; it ages for only 7-30 days, so it stays milky and creamy, but it has a refreshing, slightly acidic taste. This type of Spanish cheese goes back for at least 2,000 years in the region, making it a true legend.
Serve this cheese as-is, spread it on toast or make desserts with it. Tetilla is a beautiful fresh cheese with great versatility.
Wine pairing: White Rias Baixas Albarinho.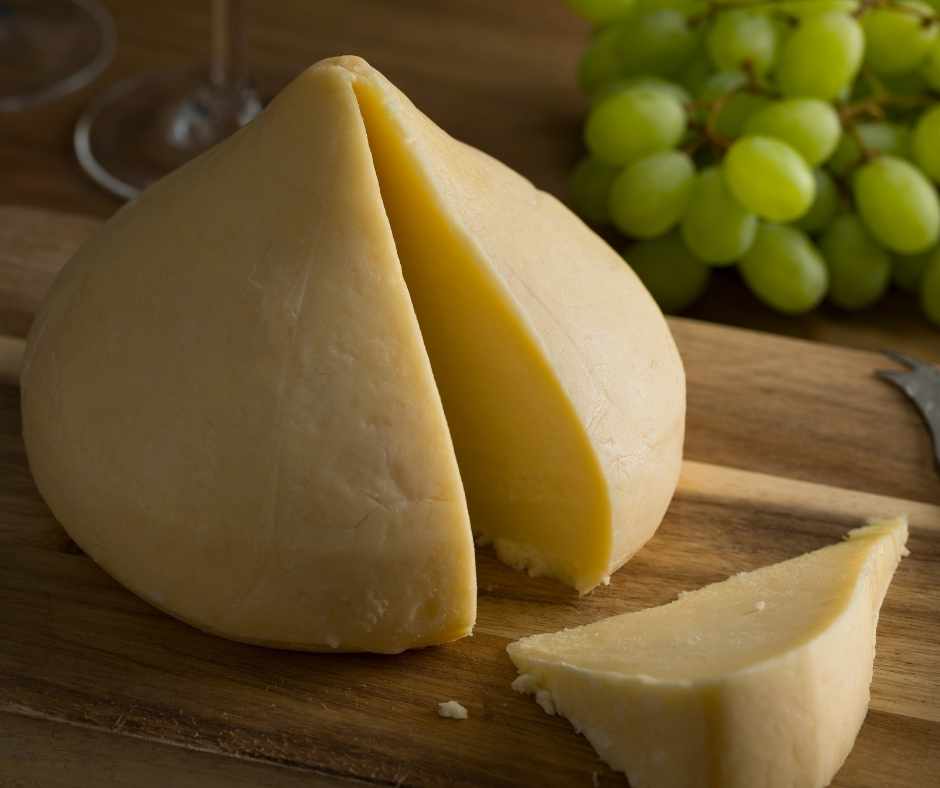 4. Mahón
Mahon is a unique type of cheese from the Mediterranean Baleares Islands, mainly from Menorca. They make this extraordinary cheese with cow's milk, and it often comes in the form of a wheel.
Producers salt-cure the press milk curd with ancestral methods that go back 3,000 years, making this type of cheese a piece of history.
This is a firm, yellow cheese with noticeable aging. It can have a few holes here and there, making it as visually attractive as tasty. Savory, salty, and spicy, there's no cheese like the Mahón.
Wine pairing: White Listan Blanco (Palomino), or red Listan Negro.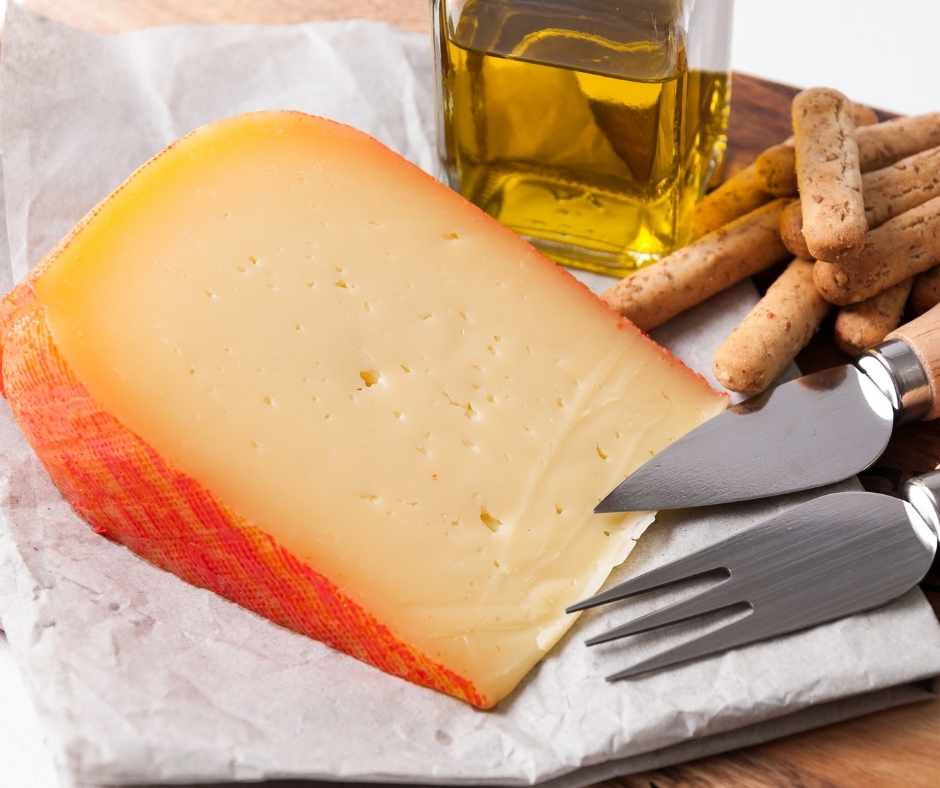 5. Cabrales
Cabrales is the most notable blue cheese in Spain. Pungent, salty and a bit stinky, Cabrales is not enjoyed by everyone, at least not the first time they try it, but it's an authentic delicacy.
This cheese comes from Asturias, up north on Spain's Atlantic shores. It's made with either cow, goat or sheep's milk, always unpasteurized and inoculated with a particular fungus that gives the cheese its green, blueish spots.
Producers age Cabrales in natural caves as it gains an intense flavor and an even stronger aroma. Not everyone loves stinky blue cheese, but it's a must on every cheese platter.
Wine pairing: Late harvest dessert white wines.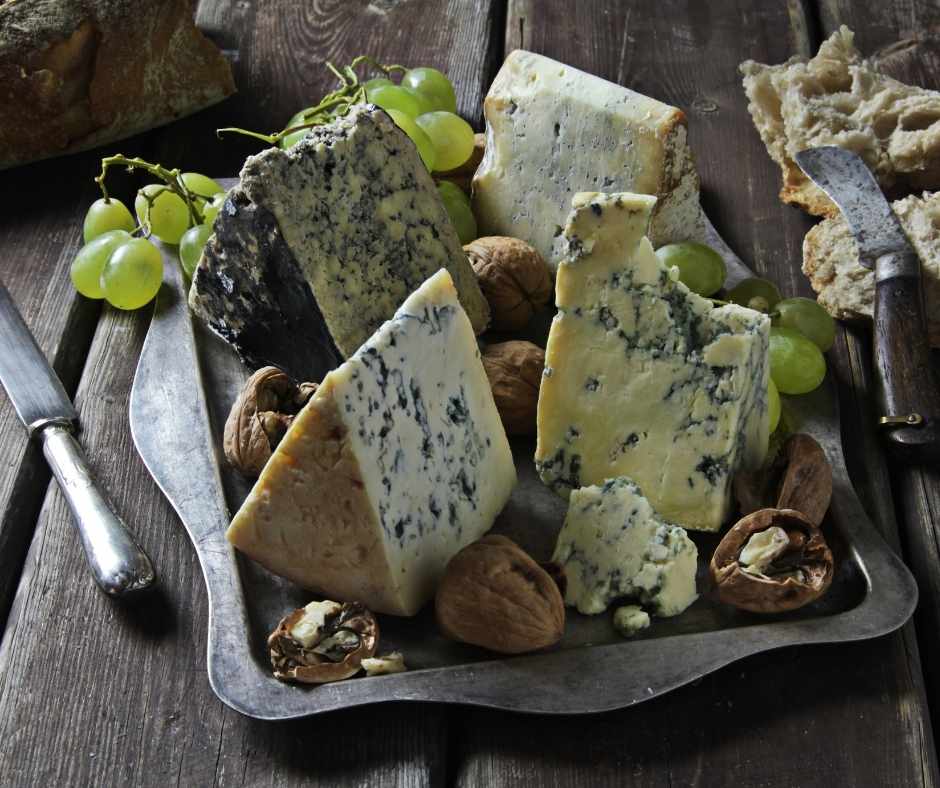 6. Roncal
This type of Spanish cheese is not dissimilar to the more famous Manchego and Idiazabal. It's also made with sheep milk and aged extensively. The main difference is that this one comes from the Roncal Valley in Navarra.
The milk here is of the highest quality, so this type of cheese has its own Denominación de Origen or appellation. This is cylindrical yellow/white cheese with a hard crust and a semi-hard paste. Roncal is a flavorful cheese and always shows an attractive piquant taste. This is a lovely alternative for Manchego and other firm cheeses.
Wine pairing: Tempranillo Rosé.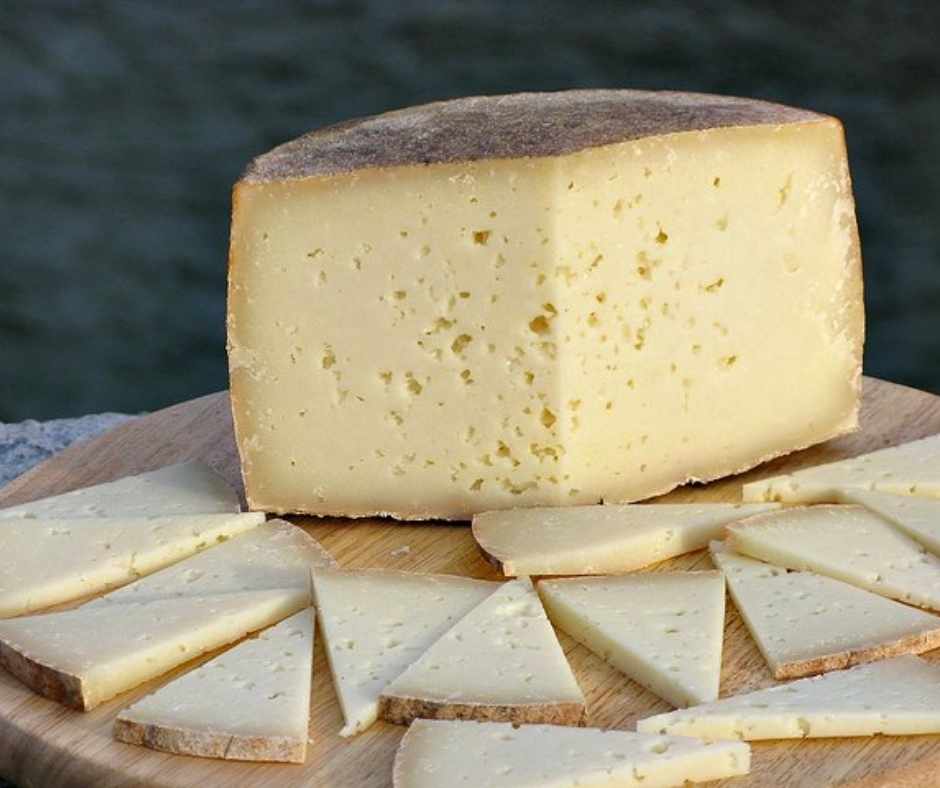 7. Payoyo
Payoyo cheese is a local secret, but the secret is out. Producers use goat and sheep milk to craft this specialty in Andalucía, southern Spain. More than an appellation, Payoyo is a trademarked term going back to 1996.
Payoyo cheese has gained national and international recognition for its flavorful paste and firm texture. Creamy rather than crumbly, this one's all about buttery and nutty flavors with hints of spices.
Of course, you'll find Payoyo cheese in different ways. Fresh semi-cured, cured and infused; they're all worth exploring. If you want a fantastic infused cheese, try an aged sheep cheese with truffles. That's the good stuff.
Wine pairing: Rueda white wine made with Verdejo.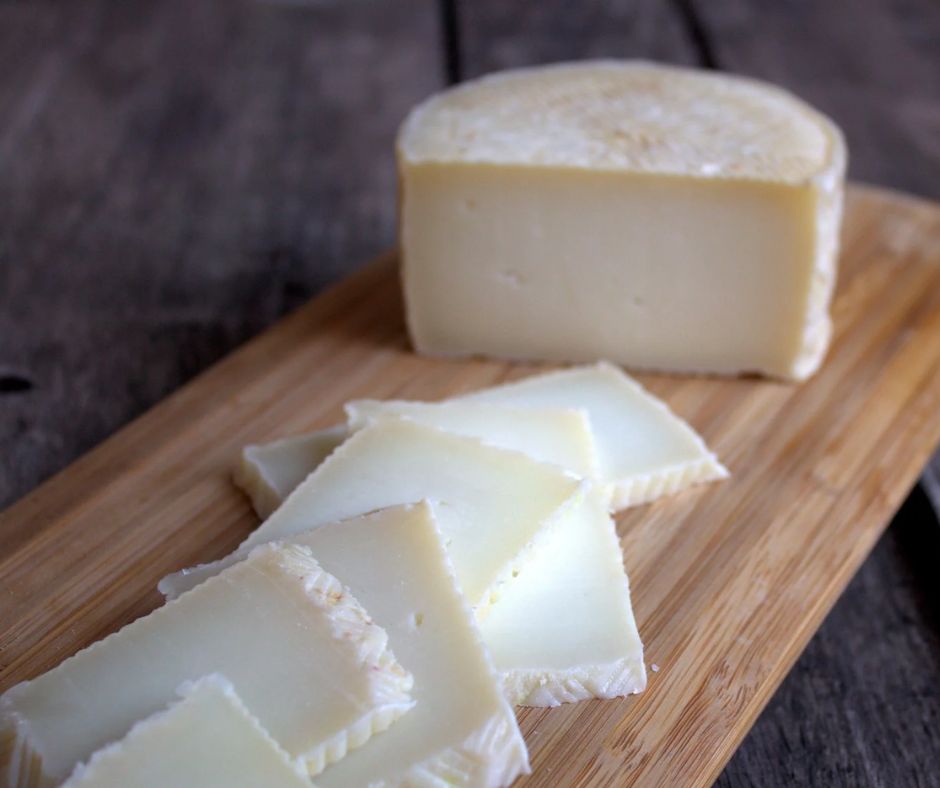 8. Majorero
The Majorero cheese is somewhat of a rarity, but it's gaining notoriety. The law has protected the style since 1996, and it's the signature cheese of the Canary Islands, deep in the Atlantic Ocean.
To make this type of Spanish cheese, producers use goat milk from a local breed, although it can contain up to 15% sheep's milk. What you get is a cylindrical cheese wheel with a firm crust but a silky paste.
Cheesemakers use tropical palm leaves to cover the cheese while it ages, and they often rub the crust with paprika and olive oil. This one is a mild, creamy cheese with attractive spiciness.
Wine pairing: Madeira made with Sercial.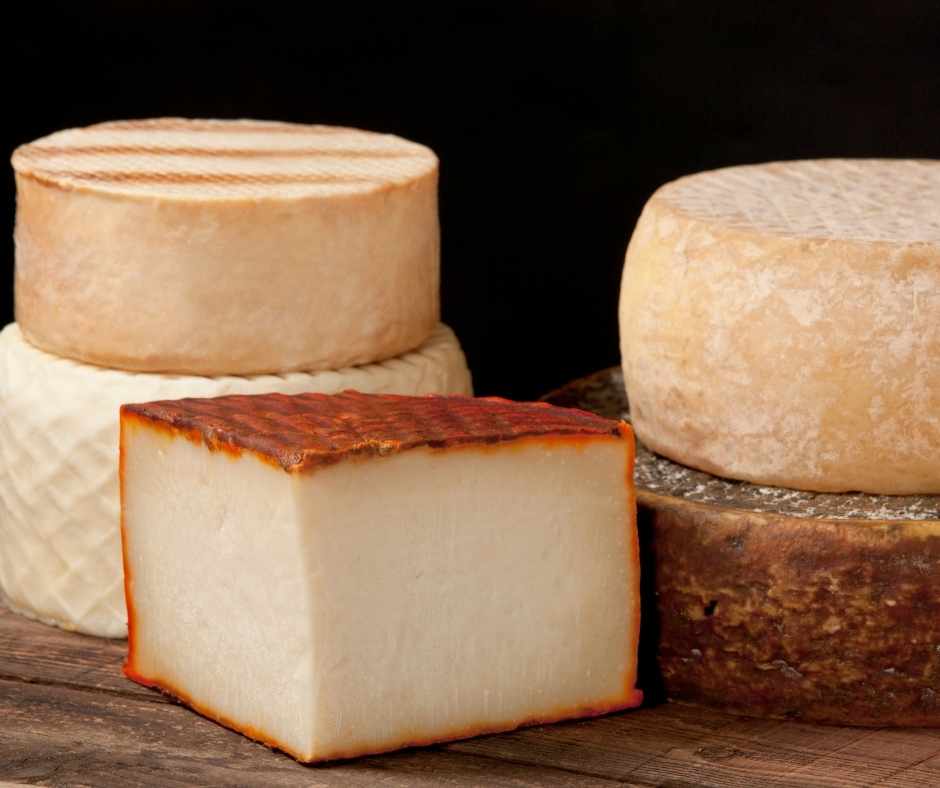 There are Types of Spanish Cheese for Everyone
There's no doubt Spanish cheese is as complex as its wine and food; the regional diversity is astounding! Now that you know more about the most famous types of Spanish cheese, it's time to try them.
Pop open a few bottles of wine, call some friends over and put together a Spanish cheese platter — good times are guaranteed. The best part of Spanish wine is that it's more available than ever; there was a time when you had to travel to the Iberian country to try these beauties; well, not anymore! Buy Spanish cheese from our curated selection and enjoy!
At Le Gourmet Central, you can find all types of unique gourmet food including authentic Iberian cured ham from Spain, gourmet risottos and pasta from Italy, truffles specialties and so much more.
To find the best gourmet foods and gift baskets online, begin your search at legourmetcentral.com.