Serves 4
Salmon preparation time: 5 minutes
Potato preparation time: 10 minutes
Greens preparation time: 5 minutes

Ingredients for the salmon:
4 x 85-113 grams / 3-4 oz salmon fillets, skin off
1 TBS avocado or olive oil
Salt and pepper to taste
2 TBS Frantoi Cutrera Pistachio and Almond Pesto
2 TBS skinned pistachio nuts
2 TBS dried cranberries
Ingredients for the potato:
4 Yukon or red russet potatoes
½ cup / 125ml pouring cream
½ cup chicken or vegetable broth
Salt and pepper to taste
3 TBS Parmesan cheese
Ingredients for the greens:
12 stalks of fresh green asparagus
½ cup edamame beans, peeled
½ cup mange tout
8 stalks tender stem broccoli
Salt and pepper to taste
Instructions for the salmon:
STEP 1
Preheat the oven to 180°C/356°F. Heat the oil in a non-stick pan and quickly sear the salmon fillets, just to color them on both sides.
STEP 2
Smear a quarter of the pesto onto each portion of salmon. Season to taste with salt and pepper.
STEP 3
Chop the pistachios and the cranberries roughly. Do this separately and then combine the two ingredients afterward. Top the fish with the pistachio and cranberry crust.
STEP 4
Bake the portions for 5-10 minutes, depending on the thickness of the fish and how well done you prefer to have it. 5 minutes is recommended so that your fish is still lovely and pink inside.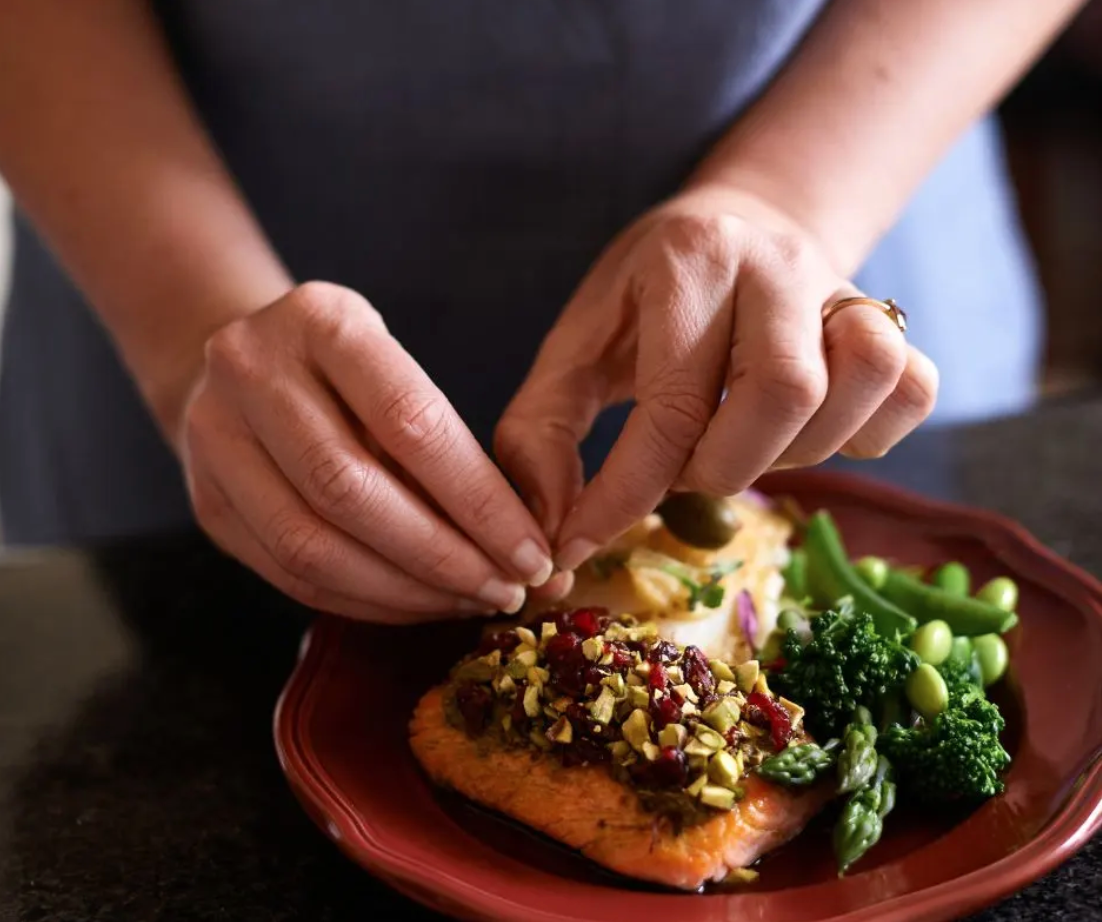 Instructions for the potatoes:
STEP 1
Peel the potatoes. Using a sharp knife or a mandolin, slice up the potatoes into thin rounds. If you are not going to build the potato dish straight away, store the slices submerged in cold water.
STEP 2
Heat the broth and season it with salt and pepper to ensure a very well-seasoned liquid. Mix the cream in together with the broth.
STEP 3
Layer the potatoes in thin, even layers inside a square baking dish. Between each layer of potato slices, drizzle a little of the liquid over and sprinkle some of the Parmesan cheese. Continue until you either reach the top of the dish or run out of potato slices.
STEP 4
Top the top layer with more Parmesan cheese and bake the dish, covered with foil wrap, for 1 hour at 180°C/356°F. Test the potatoes using a sharp knife. If they are not yet done, cook them further.
STEP 5
When you are ready to serve, slice a rectangular portion per person or use a round cutter to cut out the portion.
Instructions for the greens:
STEP 1
Trim the asparagus, broccoli, and mange tout. Steam or cook them for a few minutes in boiling, salted water. Your vegetables should have a little bite to them and remain bright green.