- Makes 6-8 Chocolate Pot Au Crème
- Prep time | 1h and 30 min
- Time to chill | 3-4 h

In this recipe we create an indulgent and silky-smooth chocolate & hazelnut ganache, set in a glass & topped with some lightly whipped vanilla cream and some deliciously crunchy and flavorsome chopped caramelized hazelnuts. This dessert will steal the show at the end of any meal!
For the chocolate & hazelnut crémeux:
For the whipped vanilla cream:
115g or ½ cup heavy cream
1 tsp vanilla extract
1 tsp superfine sugar or confectioner's sugar
For the roasted caramelized hazelnuts:
125g (1 cup) whole hazelnuts
40g (1/3 cup) superfine sugar
30ml (1 ½ tablespoons) water
30ml (1 ½ tablespoons) liquid glucose, or corn syrup
Instructions for the chocolate & hazelnut crémeux:
STEP 1
Melt chocolates together over a double boiler or in a microwave, in 20 second blasts, stirring each time until just melted. Stir in Hazelnut Spread and salt and mix well.
STEP 2
Heat the milk and cream together in a pan until it is just below the boil. Meanwhile whisk together the egg yolks and honey until they are slightly aerated and slightly lighter in color.
STEP 3
Make a crème anglaise by pouring one third of the hot milk and cream mixture onto the yolks, mixing well then returning to the pan on a very low heat and cooking while stirring continuously until slightly thickened. If you have a temperature probe cook until 176-180F, or until the sauce is just thick enough to coat the back of a wooden spoon. Immediately, to prevent the sauce scrambling on the base of the pan, tip through a fine sieve into a bowl or a jug.
From here, take 1/3rd of the mixture and add to the melted chocolates and nut paste and stir until well combined. Repeat with the remaining mixture in two additions.
STEP 4
For a perfect finish, transfer to a jug and blend for 10-20 seconds with a handheld stick blender until super smooth. Divide the mixture in some dessert glasses, transfer to the fridge and cool for at least 3-4 hours. If chilled for any longer, cover with plastic wrap. The pot au crème will keep for 2-3 days, covered in the fridge, so can be made in advance.
Instructions for the whipped vanilla cream:
Whip all ingredients together by hand or with an electric whisk until very softly whipped.
Instructions for the roasted caramelized hazelnuts:
STEP 1
Weigh out the water, glucose and sugar into a large pan.
STEP 2
Heat together until mixture is fully dissolved and bring to boil. Once boiling turn heat to a medium heat and add the hazelnuts.
STEP 3
Mix in the pan until the nuts are evenly coated and continue to cook there is very little or no syrup left.
STEP 4
Tip out onto baking trays lined with baking parchment or non-stick baking mat and spread out thinly and evenly.
STEP 5
Bake in oven at 300F-320C for around 13-16 minutes or until the nuts are a lovely caramelized golden-brown color.
Leave to cool to room temperature before roughly crushing. Store any remaining in an air tight container.
To serve:
Remove the pot au crème from the fridge, add a spoon of lightly whipped vanilla cream, drizzle over some extra Vincente Sicilian cream of hazelnut spread, and finally sprinkle over the chopped caramelized. Enjoy!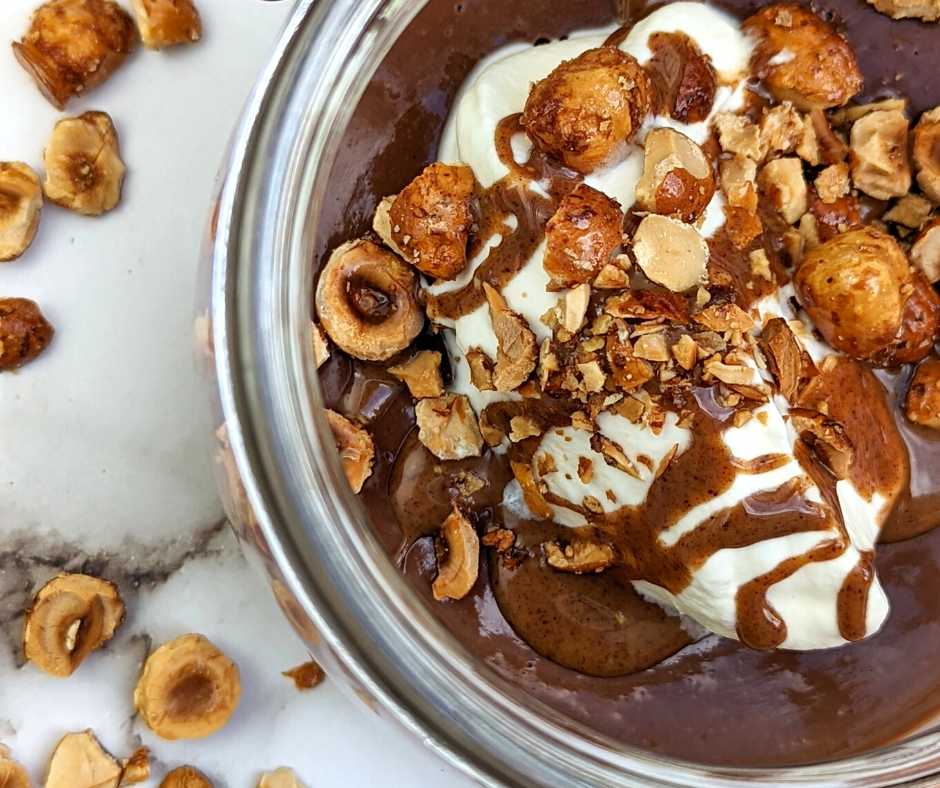 Photo, food styling and recipe by Stefan Rose the pastry chef