Serves: 4 | 1h-20min
Ingredients:
1 kg of large, yellow potatoes (Bintje, agria, samba, etc.)
25g butter
1 whole egg
1 egg yolk
70 g of Meaux® Pommery® mustard
90g T55 flour
Instructions:
STEP 1
Wash the potatoes then place them unpeeled on a bed of moist coarse salt in the oven at 190°C for one hour. Prick and prolong the cooking if necessary. Let them cool for a few minutes.
STEP 2
Take out the skin and cut the potatoes in half. Pass the potatoes through a vegetable mill and place in a saucepan over medium-low heat with the Mustard.
STEP 3
Mix the ingredients using a spatula. When there is no liquid left add the butter. Mix then place of in a mixing bowl.
STEP 4
In a mixing bowl, add the mixture, the beaten eggs, then the flour. Mix gently, and adjust the seasoning.
STEP 5
Place the mixture onto a work surface and make a long sausage ¾ of and inch in diameter. Cut every inch with a knife.
STEP 6
Make a ball while rolling between your hands, then mark the gnocchi by passing them onto the back of a fork.
STEP 7
Boil water seasoned with coarse salt. Cook the gnocchi in it. When they rise to the surface, drain them.
STEP 8
You can enjoy them with a knob of butter, crisp them in a pan, or fry them in the fryer. Voila! Buon appetito!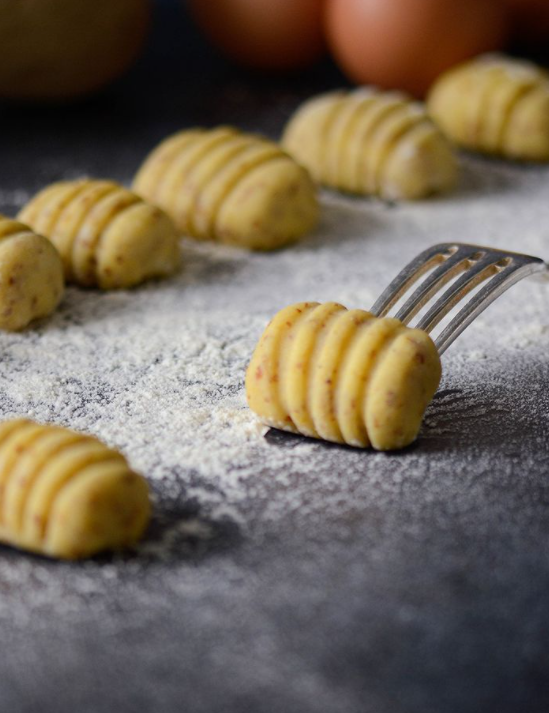 At Le Gourmet Central, you can find all types of unique gourmet food including authentic Iberian cured ham from Spain, gourmet risottos, truffles specialties and so much more.
To find the best gourmet foods and gift baskets online, begin your search at legourmetcentral.com.