Serves: 6 | 1 hour 15 min
Ingredients:
6 boneless skinless chicken thighs
Kosher salt & pepper to taste
1 tbsp unsalted butter
1 medium shallot, finely diced
2 cloves garlic,minced
10 tbsp fig balsamic glaze
5 sprigs thyme, plus more for garnish
½ cup walnuts,chopped for garnish
½ cup gorgonzola,crumbled
Preparation:
STEP 1
Preheat the oven to 425 degrees F. Spray an 8x8'' baking dish with non-stick cooking spray and set aside.
STEP 2
Over medium heat, Melt butter in a small saucepan. Add shallots and season with 1/4 tsp salt. Sauté until soft and translucent, about 3-4 minutes. Add in garlic and sauté until fragrant. Add in fig balsamic glaze and 1 sprig of thyme. Stir until the sauce has thickened. Use tongs to remove thyme sprig and discard.
STEP 3
Place chicken on a clean work surface and pat the chicken dry. Season both sides of the chicken generously with salt and pepper. Transfer chicken to the prepared baking dish. Spoon the reduced glaze over the chicken, using the back of a spoon to evenly coat and distribute the glaze. Add 4 remaining sprigs of thyme to the chickens.
STEP 4
Bake for 35-40 minutes or until the juices run clear and chicken is cooked through (internal temperature of 165F). Remove from the oven and let chicken rest for 5 minutes.
STEP 5
Serve the chicken and garnish with fresh thyme, walnuts and cheese if using.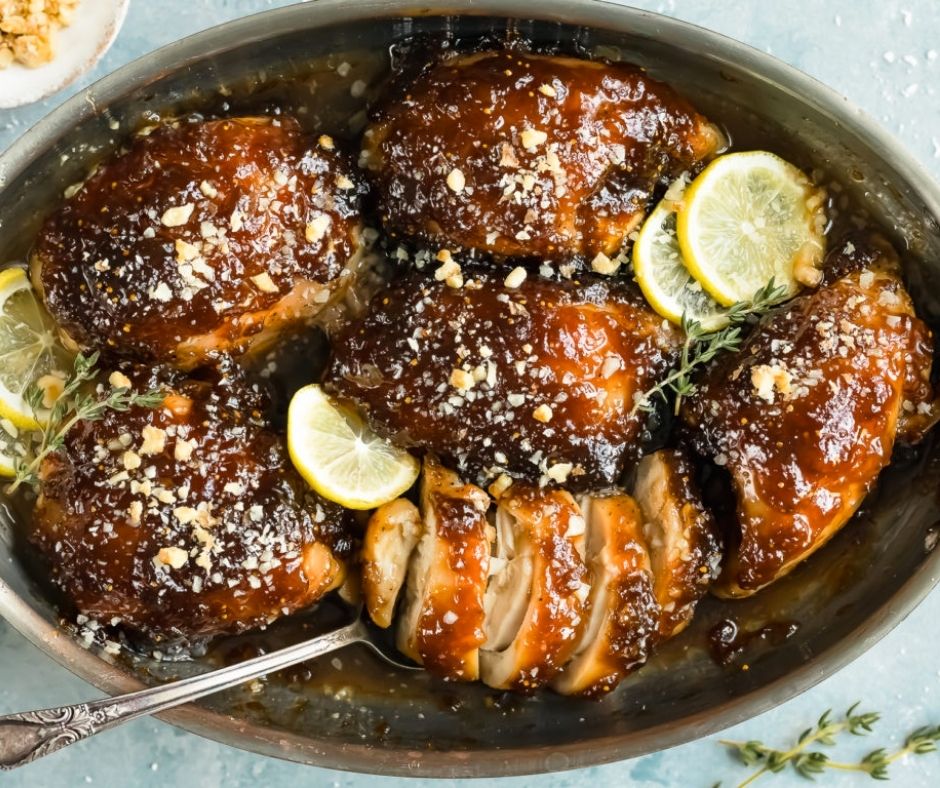 At Le Gourmet Central, you can find all types of unique gourmet food including authentic Iberian cured ham from Spain, gourmet risottos, truffles specialties and so much more.
To find the best gourmet foods and gift baskets online, begin your search at legourmetcentral.com.