Ingredients:
For salad:
3.17 oz (90g) of Parma ham
6 fresh figs - quartered
½ ripe cantaloupe - cut into cubes or chunks
1/3 cup of walnuts, roughly chopped
3.52oz of rocket leaves
For dressing:
Instructions:
STEP 1
Add all the dressing ingredients to a small bowl, whisk thoroughly, then season with salt and pepper to taste.
STEP 2
On a serving platter, arrange the melon and figs and rocket leaves.
STEP 3
Take each strip of Parma ham and roll it loosely into a 'rose', tucking in the ham amongst the fruit.
STEP 4
Scatter the walnuts over the salad and finish the dish by drizzling over the fig dressing. Serve immediately.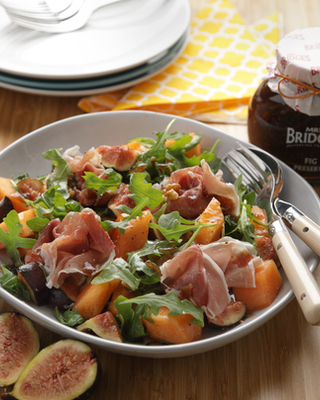 At Le Gourmet Central, you can find all types of unique gourmet food including authentic Iberian cured ham from Spain, gourmet risottos, truffles specialties and so much more.
To find the best gourmet foods and gift baskets online, begin your search at legourmetcentral.com.