Using truffle in your cooking is like dressing up a simple outfit with a bold accent piece. The unique and powerful flavors instantly elevate simple dishes and take more complex cuisine to a new flavor dimension. We've created 3 easy, yet delicious recipes for the summer made with truffle.
Steak Tartare with Black Truffle Oil and Black Truffle Salt Flakes
Serving: 4 people
Ingredients:
600g of beef tenderloin
Pink Salt with White Truffle and freshly ground black pepper
1 shallot minced
2 tbsp. finely chopped small dill pickles
2 tbsp. finely chopped fresh parsley
1 egg yolk
3 tablespoons red wine vinegar
2 tablespoons Original Dijon Mustard
1 tablespoon Worcestershire sauce
Preparation:
STEP 1
Place the beef in the freezer for about 1 hour until the exterior begins to firm up and form crystals but it's still easily pierced with a knife. This will make it easier to finely hand-chop.
STEP 2
In a small bowl, prep the mixture with shallot, dill pickles, and parsley, and set aside. In another small bowl whisk together the egg yolk, vinegar, mustard, oil, and Worcestershire.
STEP 3
Remove the beef from the freezer, slice it thinly against the grain, then slice into fine strips, and then finally dice into small cubes, about ¼-inch across. Transfer the beef to a large mixing bowl and gently combine it with the mixture as well as the dressing. Taste and adjust seasoning as needed with salt and pepper.
STEP 4
Divide into 4 equal portions, press each portion into a round cookie cutter on a plate. Remove the ring and serve immediately, preferably with toast points/toasted baguette slices, fries and/or salad.
Mixed Salad with Fresh Ricotta and Truffle Peanuts
Serving: 2 people
Ingredients:
100 g mixed salad
100g fresh ricotta
10 cherry tomatoes
Preparation:
STEP 1
Cut the cherry tomatoes in half and add them to the salad. Season with salt and olive oil and mix everything.
STEP 2
Serve and place the cherry tomatoes on the salad. Then, using two spoons, add the fresh ricotta and the salted peanuts with truffles.
STEP 3
Use the vinegar glaze as a finishing touch.
Potato Flan and Porcini & Truffle Cream
Serving: 4 people
Ingredients:
300g boiled potatoes
300g fresh cream
200g milk
5 eggs (medium size)
30g flour
50g Parmesan Cheese
Preparation:
STEP 1
Put a small pot full of water at the bottom of the oven to humidify it and preheat the oven at 266 degrees F.
STEP 2
Set aside the Porcini & Truffle Cream and mix the rest of the ingredients in a bowl, blend them, and put the mixture in specific molds, previously greased.
STEP 3
Put the flan in the oven and cook for 50 minutes.
STEP 4
Serve the flan on a plate. Warm the Porcini & Truffle Cream in a pot and drizzle it over the flan.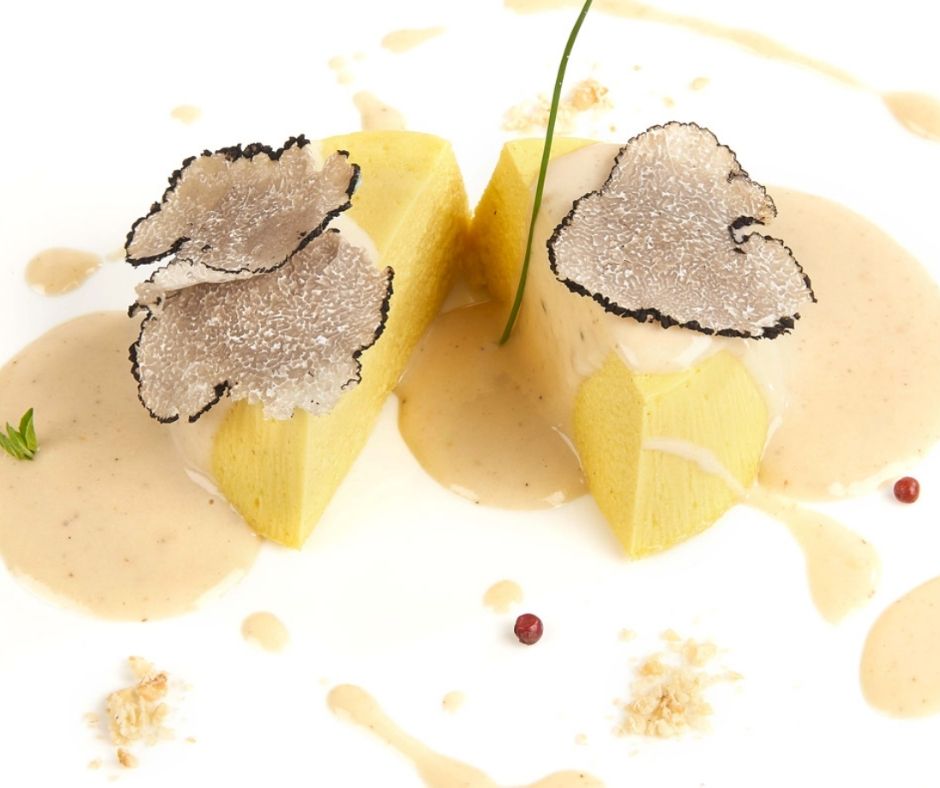 At Le Gourmet Central, you can find all types of unique gourmet food including authentic Iberian cured ham from Spain, gourmet risottos and pasta from Italy, truffles specialties and so much more.
To find the best gourmet foods and gift baskets online, begin your search at legourmetcentral.com.