Risotto is an Italian rice dish cooked with broth. The broth can be derived from meat, vegetables or fish. The number of risotto recipes is endless, but the basic cooking technique remains the same for each. Almost every risotto begins with sautéing some chopped onion in butter or a mixture of butter and oil, which lays the flavor base on which the rest of the recipe is built. Once the onion is tender, the rice is added and stirred until well coated with the oil. Then small amounts of hot broth are added. When adding liquid to the rice, it must be mixed constantly cooked gently over a low boil. The final flavorings are often added in the last few minutes of the cooking process, and once it has completed cooking, it is removed from the heat, and a little butter and sometimes grated parmesan are added.
Risotto, like other rice dishes, requires attention as well. Risotto originally is served as a starter before the main course or sometimes served as a side dish.
ESSENTIAL RISOTTO COOKING TIPS:
Never wash the rice. The starch is essential for the rice's creamy consistency.
Prepare all the ingredients before putting them in the order when they are added because you cannot stop stirring to read the ingredients.
Use hot broth when cooking your risotto as it speeds up the cooking time.
Add the liquid in 1/4 cup intervals; add more when completely absorbed it.
Taste the rice frequently while cooking till the end time.
If you run out of hot broth and your risotto requires a little more cooking time, add some hot water instead.
BASIC RISOTTO INGREDIENTS:
5 and 1/2 cups of warm vegetable or chicken broth
2 cups of carnaroli rice
3 tbsp of Olive oil
1 medium onion, diced
3 cloves of garlic, minced
2 tbsp of unsalted butter
Salt, to taste
Black pepper, to taste
STEPS TO MAKE TRADITIONAL RISOTTO:
Risotto Panna e Porri is a traditional Italian risotto. It's made as primary ingredients with cream, leeks, and vegetable stock.
Pour vegetable broth in a saucepan and bring it to a boil. Meanwhile, heat olive oil in another pan and add onion, garlic, and rice.
Cook it until it has softened.
Now, add a little vegetable broth and boil it.
Cook and stir until the liquid has evaporated.
Reduce heat to low. Add the remaining stock, cook and stir gain.
Repeat the process until the liquid has absorbed.
When the rice becomes tender and firm, the dish or pan is covered for a short time, and then cream is added to the pan along with seasonings.
When served, it's recommended to sprinkle risotto with grated Parmigiano-Reggiano cheese. Check out Kathysvegankitchen for healthy vegan alternatives for this recipe.
2. RISOTTO ALLA FONTINA:
This dish is usually made with a combination of risotto rice, onions, garlic, butter, Fontina cheese, white wine, chicken stock, salt, and pepper.
The onions and garlic are sautéed in butter and then mixed with the rice and chicken stock.
Once the rice is half-cooked, the cheese is stirred in, and the risotto is seasoned with salt and pepper and cooked until creamy.
Butter is added at the end.

3. RISOTTO ALLA PAESANA (MUSHROOM):
This type of Risotto dish includes rice, broth, pancetta or bacon, butter, and a variety of fresh vegetables such as onions, carrots, celery, garlic, peas, zucchinis, and mushrooms. Herbs such as parsley, basil, and bay leaves are often added for extra flavour. Its cooking process is the same as mentioned above.

4. RISOTTO AL CAVOLFIORE:
This Italian Risotto dish is made with cauliflower as the vital ingredient. Other ingredients include risotto rice such as Carnaroli or Arborio, chicken or vegetable stock, white wine, garlic, parsley, dill, butter, olive oil, salt, pepper, and grated cheese. First, the cauliflower is lightly roasted and then cooked with the stock, including other ingredients.

5. RISOTTO ALL'UOVO:
This type contains eggs; it's like soup. The ingredients include rice, chicken stock, Parmigiano-Reggiano cheese, butter, salt, and pepper.
In the beginning, rice is simmered in stock until tendered.
Then add the egg mixture, and repeat the same process of cooking and stirring.
CONCLUSION:
There are so many other recipes of Italian Risottos; they can be cooked in so many ways with different ingredients. We guarantee that you will love these recipes which we shared. It's for both; meat lovers and vegetarians. You can serve it with fish too. The best part I love about risottos is that it has no limits; you can add whatever you want as the primary ingredient.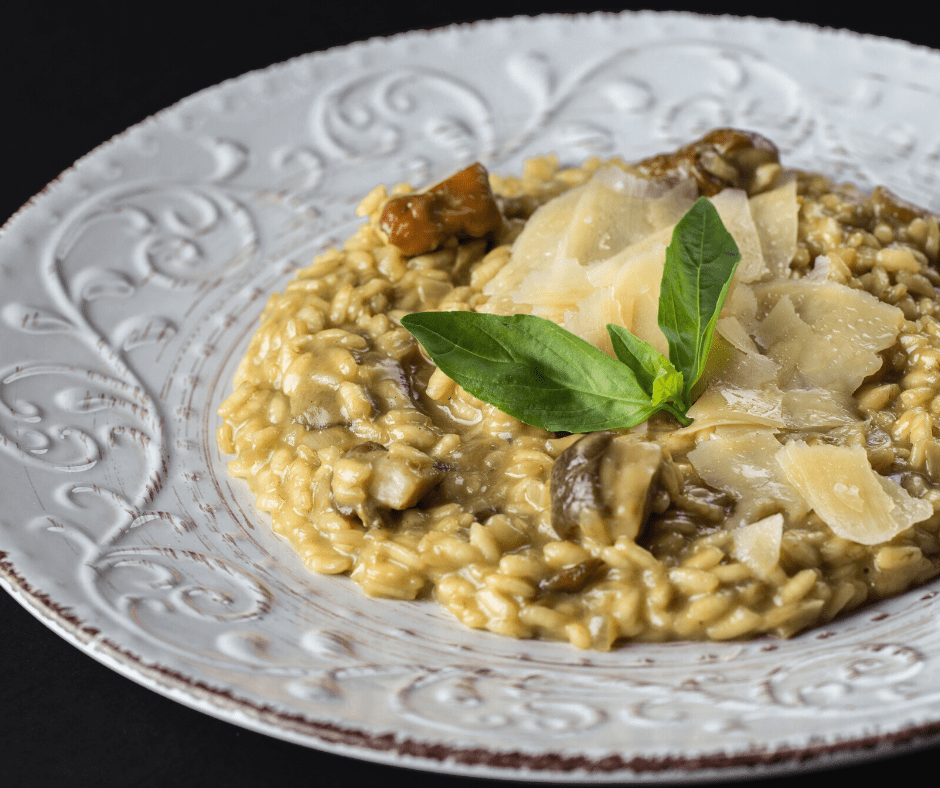 Imported from Italy, Le Gourmet Central has all the best Italian risottos, from truffle risotto, cacio e pepe risotto to porcini mushroom risotto. When searching for gourmet food online, look no further than legourmetcentral.com