Canning foods preserves many nutrients with the amount of minerals, fat-soluble vitamins, protein, fat, and carbohydrates remaining relatively unchanged by the canning process. This results in food that is as nutritious as fresh and frozen. Fish and other seafood and fruits and vegetables are canned at the peak of freshness or ripeness.
The products we sell are not processed low-quality fish parts (like cheap canned tuna you may find in a grocery store).
Gourmet Canned Seafood
We carefully select high-quality products that use the highest-quality ingredients, carefully prepared to perfection, and preserved at peak freshness. For example, our Mussels In Pickled Sauce are produced by Ramón Peña; an old-century company specialized in the selection, packing, and distribution of gourmet canned seafood. Ramón Peña products are sold to high-quality restaurants and gourmet retail stores. Ramon Peña mussels are prepared using an exquisite pickled sauce, allowing you to enjoy the muscles' taste to their fullest.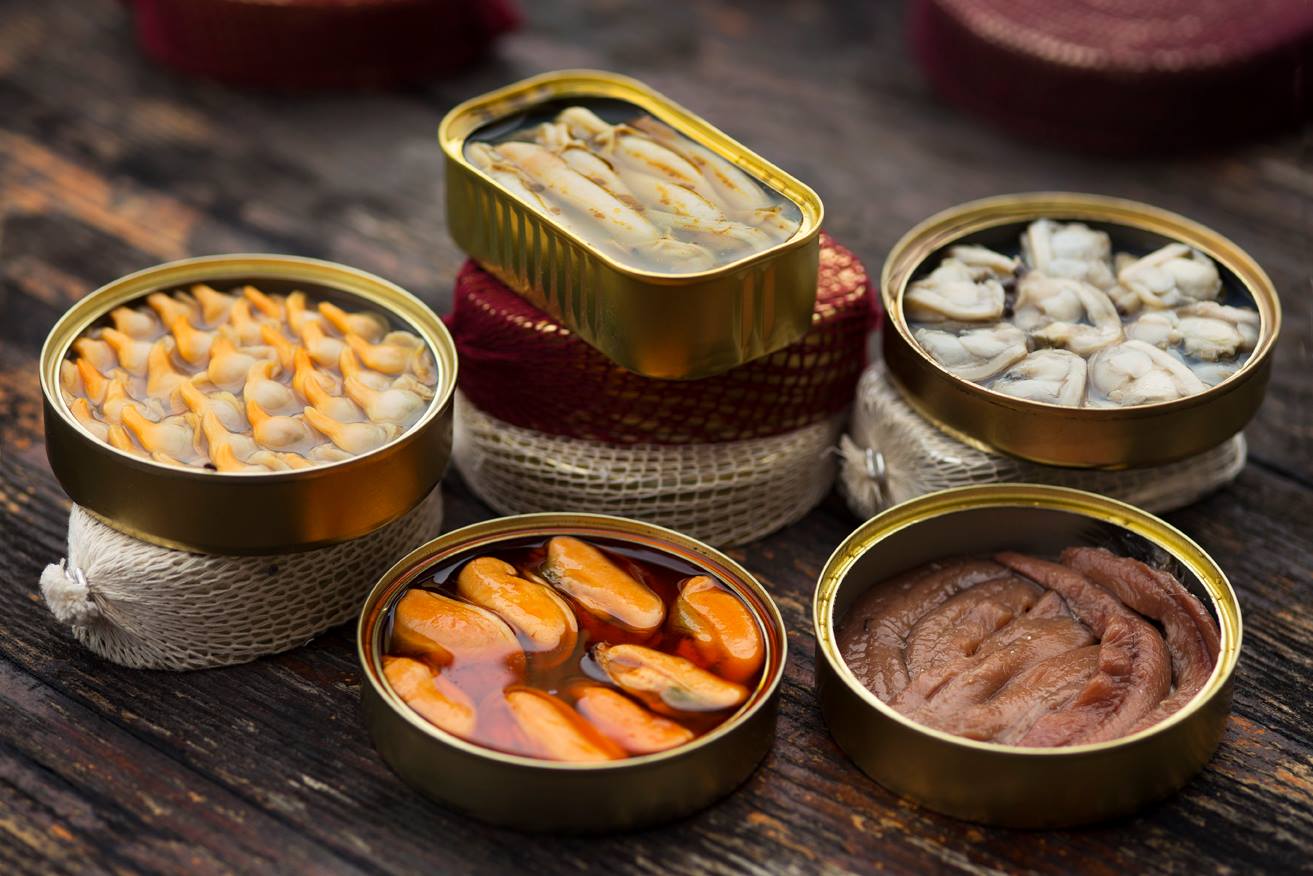 Our Precooked Burgundy escargots are made with the highest quality Helix Pomatia Snails, water, salt, and natural seasonings, giving you the fresh taste of the sea right in your pantry.
In many regions, canned seafood is often seen as even higher quality than fresh seafood.
Think of it like a cured meat like jamón ibérico; the preservation process results in an end product very different and much more valuable than fresh Iberian pork. Combining the delicately sweet and peppery flavor of a Piquillo pepper with the salty touch of perfectly seasoned Atlantic cod results in a perfect accompaniment to any variety of shellfish. They are best prepared by heating them in the oven at a moderate temperature or in a casserole over a low flame.
The nutrients in canned fish don't vary much from fresh. They can also be a better source of calcium as the processing softens small bones, making them edible. Canned seafood is also very convenient as it is not required to be used as quickly as fresh seafood or stored in the fridge or freezer to stay fresh. Additionally, if you choose seafood canned in oil, it helps preserve even more omega 3, which is a significant benefit of eating fish.
Gourmet Canned Vegetables
When it comes to canned vegetables, there are several benefits over fresh with certain products . For example, many tomatoes and other vegetables you find in the grocery store have been bred to look good on the grocery store table, not necessarily to have fantastic flavor. Most tomatoes you find in the grocery store are picked green and ripened artificially, leaving them looking great but with little taste.
Many chefs prefer using canned tomatoes in their recipes as they are picked at the height of ripeness and since they are being canned, ensuring they are transported without damage is not an issue.
Our Spanish Ratatouille with Tomato Sauce (Pisto) is produced by Conservas Artesanas Rosara, located in the heart of the Navarra lowlands in Northern Spain.
The Ebro River banks produce the best garden produce thanks to its propitious climate, fertile soil, and the heedful husbandry of its inhabitants. All of the ingredients in this fantastic sauce are picked at the height of flavor and ripeness, ensuring you can taste the love and care that goes into each jar. Our Whole Confitted Piquillo Peppers, also produced by Rosara, are peeled by hand before they are preserved in whole cane sugar and red wine. They have a sweet but intense peppery flavor and are ideal in snacks and tapas. Rosara's Spanish Roasted Vegetables (Escalivada) is made with the perfect balance of onions, peppers, and roasted eggplant. Gently roasted in the oven, the ingredients are then garnished with olive oil and served either hot or cold.


Our gourmet canned food is selected from the best in the World. Le Gourmet Central canned food varieties include artisan sardines, piquillo peppers, cockles in brine, baby squids in ink sauce, razor clams, mussels in pickled sauce, white tuna, tuna belly, mackerels, sturgeon, white asparagus and many more. Shop all gourmet canned food varieties here. When searching for real gourmet food online, look no further than legourmetcentral.com