Serving: 4
INGREDIENTS:
6-7 scallops
1 mango
1 shallot
Arugula
Salt and pepper to taste
PREPARATION:
STEP 1
In a pan with olive oil, sauté the finely chopped shallot, then add the mango (not too ripe) cut into cubes. Pour in ½ cup of water and let it cook until it becomes creamy.
STEP 2
In another pan pour a little olive oil, salt and pepper. Brown the scallops on both sides for two minutes.
STEP 3
Cut the scallops into slices and add to the mango sauce over a low flame.
STEP 4
Boil the Linguine in plenty of salted water. Drain and sauté with the scallops and mango sauce.
STEP 5
Sprinkle with a pinch of arugula and serve!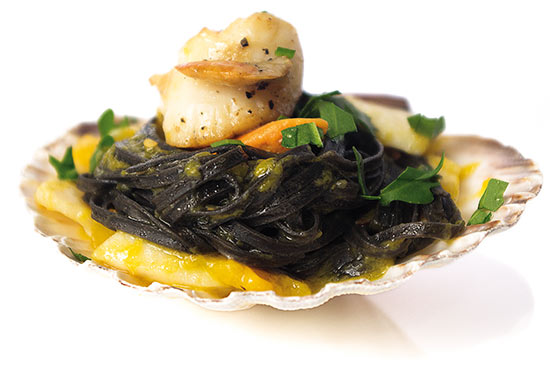 > Find more Pasta Recipes here