Serving: 4
Ingredients:
6-7 scallops
1 mango
1 shallot
Arugula
Salt and pepper to taste
Preparation:
STEP 1
In a pan with olive oil, sauté the finely chopped shallot, then add the mango (not too ripe) cut into cubes. Pour in ½ cup of water and let it cook until it becomes creamy.
STEP 2
In another pan pour a little olive oil, salt and pepper. Brown the scallops on both sides for two minutes.
STEP 3
Cut the scallops into slices and add to the mango sauce over a low flame.
STEP 4
Boil the Fettuccine in plenty of salted water. Drain and sauté with the scallops and mango sauce.
STEP 5
Sprinkle with a pinch of arugula and serve!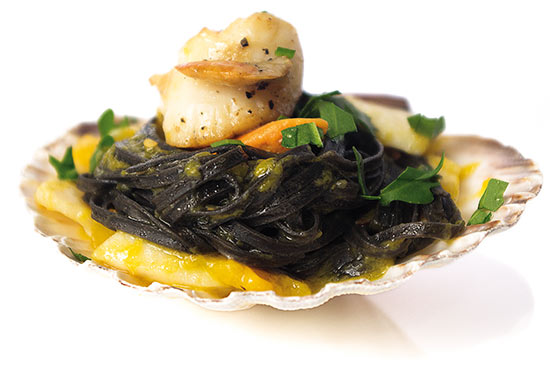 At Le Gourmet Central, you can find all types of unique gourmet food including home made dried pasta, Iberian cured ham from Spain, gourmet risottos and sauces imported from Italy, truffles specialties and so much more.
To find the best gourmet foods and gift baskets online, begin your search at legourmetcentral.com.