A yellow-hued paella is the dish that most visitors think of when they imagine Spanish cuisine. The fragrant smells of cooking paella and the scoopfuls of moist, intensely flavorful rice make this a showstopping dish.
This delicious dish may seem intimidating but with the right ingredients and a few simple tips, you can easily create a paella that will amaze your family or guests!
This famous dish comes from the Valencian region of Spain and has since won over the entire country. Valencia has its own distinct dialect which is similar to the Catalonian language. Paella is actually the Valencian word for the frying pan that all paellas are cooked in.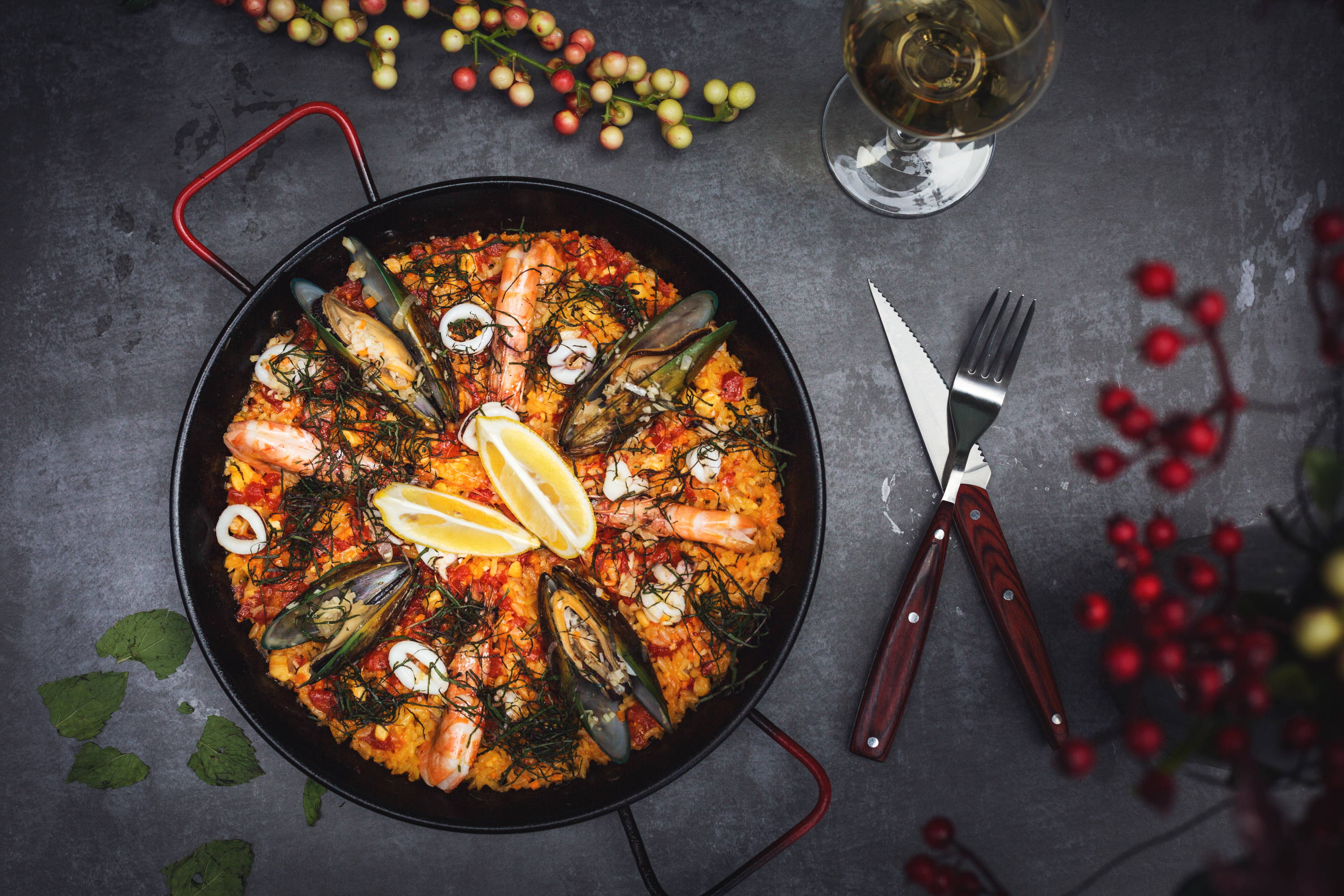 There are two variations of traditional paella. Saffron, a treasured and rare hand-harvested spice, is what gives paella rice its famous yellow color.
Nowadays you might see restaurants cutting costs by replacing pure saffron with food coloring or a cheaper yellow spice.
The original recipe is called Paella Valenciana. It is made with round-grain rice, chicken broth, generous amounts of olive oil, green beans, paprika, rabbit, and chicken. Seafood paella replaces the meat with shellfish and uses seafood broth.
Over the generations and with the influence of new cultures, new untraditional items have been introduced to paella recipes. When the dish is cooked like a traditional paella but with new items, like squid ink, they are called arroces (meaning rices) instead.
Chefs in Spain usually use DO Calasparra rice. Short-grained rice is necessary to achieve that famous paella texture. The rice needs to adequately soak up liquid while still remaining firm.
How to make a tasty paella?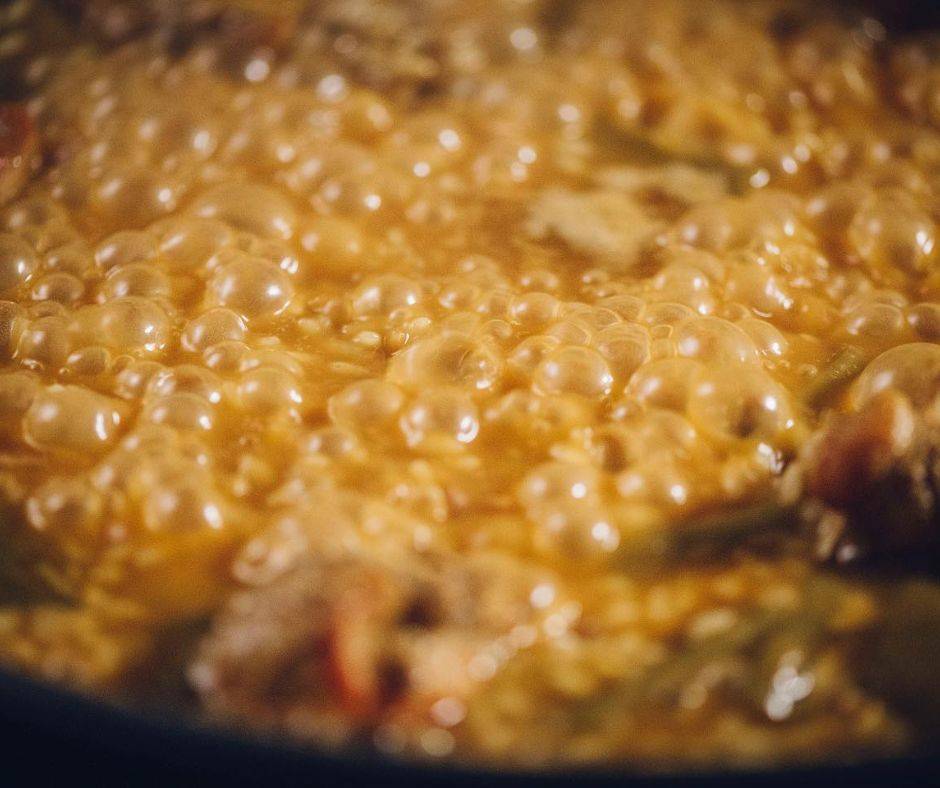 The first step to cooking a delicious, authentic paella is buying a professional stainless steel paella pan. A pan that is 30 to 35 cm in diameter is a good size for home use, serving up to 4 people. Anything bigger won't fit in a typical residential kitchen.
Your pan will naturally season throughout use, so the more paella you cook, the better your dish will be.
The Le Gourmet Central paella seafood kit has almost everything you need to whip up a seafood paella that will leave guests full and happy. It contains shrimp and cuttlefish, delicious seafood broth, and the perfect amount of authentic rice.
Basic cooking instructions
for traditional paella
Paella is traditionally cooked over a roaring woodfire, allowing the broth to boil over the rice. If you have a flame grill, then set the flame to maximum potential for the first steps of the process. Once the broth is boiling, you can lower the flame to a simmer.
An induction stovetop burner or hotplate can work as well. However, you need to ensure that there is even heat distribution across the entire pan. Some smaller stoves will require you to move the pan around to ensure that every part of the pan receives the same amount of direct heat.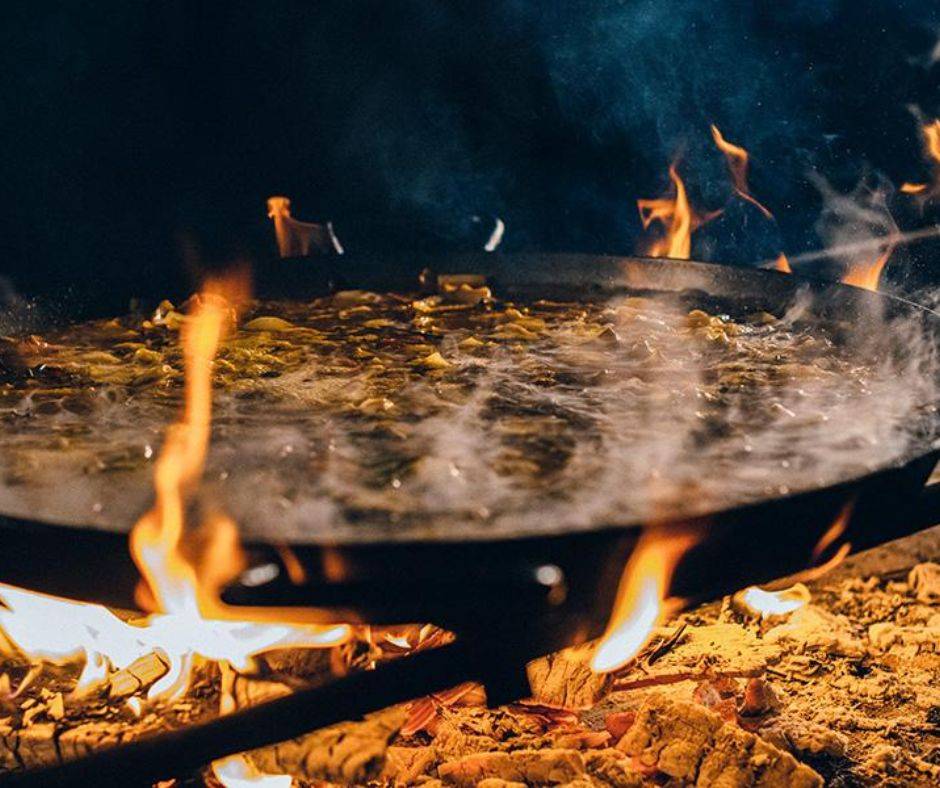 There is a standard recipe that all traditional chefs follow without deviation. The basic steps are:
First, add oil and sauté your meat or shellfish.

Then add the green beans and cook until soft.

Introduce garlic, tomatoes, and beans along with saffron and Spanish paprika.
Next, add the broth to boil down by half.

Once the broth has reduced, add the rice until it is cooked through.

Voilà, you have your tasty paella!
Slice up some pieces of crusty bread and a wedge of lemon to serve on the side of this deceptively simple dish.
Want to hear an insider tip for enjoying paella? The crispy, hard bits at the bottom of the pan are the best part! This left-over bit even has a special name, socarrat, and kids fight over who gets to scrape the pan to eat it.
Tips for a perfect paella
There are a few tips and tricks to make a restaurant quality paella. The biggest mistake many cooks make is overcrowding the pan.
Paella needs to be cooked in a thin layer. This is why the pan is so wide, to ensure that there is enough space available to cook a decent amount of servings.
Only layer about ½ inch (about a finger thick) of rice and vegetables. This is essential to ensure that the rice evenly cooks and you get that proper texture.
This also means avoiding adding too many ingredients. The rice is the star of the show and there should be more of it than toppings. Chicken, vegetables, seafood, and other ingredients should not crowd the pan. The paella is centered on the flavors of the sofrito, which is a delicate blend of oil and aromatics like saffron, garlic, and smoked paprika.
If you have a small stovetop, then start the paella process on your burner. Once your rice has absorbed a good amount of the broth (it should take about 7-10 minutes), cover the pan with aluminum foil. Transfer the pan to an oven preheated at 200C/400F to finish cooking. This ensures that all the rice is equally cooked.
Knowing when your rice is finished
Not sure when to finish cooking? Scoop a bit of rice from the side of the pan and give it a chew. It should be tender yet still firm. If it's not tender enough, then pour over some more broth and give it another 5-10 minutes.
Don't try to rush your paella. Trying to chew through a paella with hard or gummy rice is not pleasant. No matter how hungry you are, be patient. Your finished dish will be worth it.
Don't eat seafood or meat?
If you aren't into meat, there's no need to avoid paella! Vegetarian and vegan paellas are just as tasty since the rice and spices are the most important flavors in this famous dish.
Double up on the green beans and lima beans, switch to a veggie broth, and add other bright-tasting vegetables like red peppers.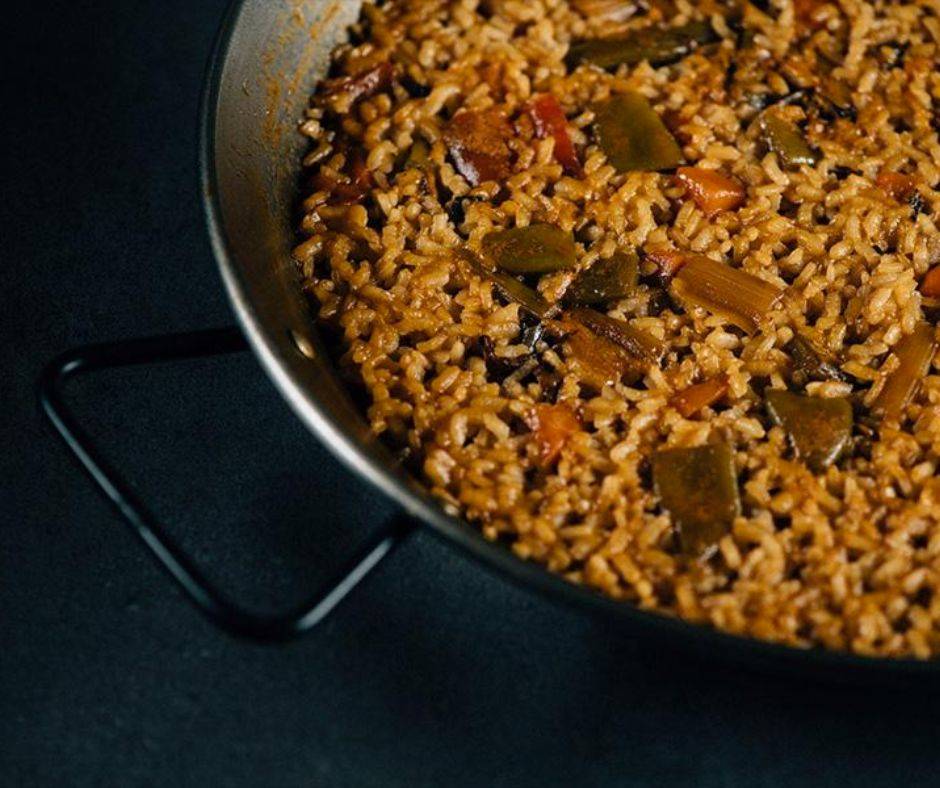 Serving paella
Paella is exclusively eaten for lunch in Spain. It is a common joke that you know your restaurant is catering to tourists when you see paella on a dinner menu. However, we won't tell anyone if you serve a mouth-watering home-cooked paella at your next dinner party!
Pair your paella with a fruity sangria, refreshing soda with lemon, or a light red Pinot Noir. If you serve a seafood paella, then pair it with a white sparkling cava or a glass of rich Albariño.
Que aproveche!