1.Seared Foie Gras with Grapes
Serving: 4-8 people
Ingredients:
1 cup finest seedless green grapes
1 1/2 cups Muscat, Sauternes, or late-harvest Riesling
1/4 teaspoon freshly grated nutmeg
1/4 cup heavy cream
White pepper
Salt
Preparation:
STEP 1
For the sauce, blanch the grapes in boiling water in a heavy medium saucepan for 1 minute; drain. Peel the grapes and set aside.
STEP 2
Put the wine into the pan and bring to a boil over medium-high heat, reducing it to about 1/4 cup, about 10 minutes. It will have a syrupy consistency.
STEP 3
Add the broth, vinegar, and nutmeg and boil until thickened a bit and reduced almost by half, about 5 minutes. Add the cream and boil until the sauce is just thick enough to coat the back of a spoon, about 2 minutes.
STEP 4
Add the peeled grapes and swirl them around in the sauce. Reduce the heat to low. Season with salt and pepper. Keep it warm over very low heat.
STEP 5
Warm the foie gras through in an oven set to 320°Fand place it on warm plates. Spoon the sauce and grapes around it. Sprinkle a little salt on top of each serving.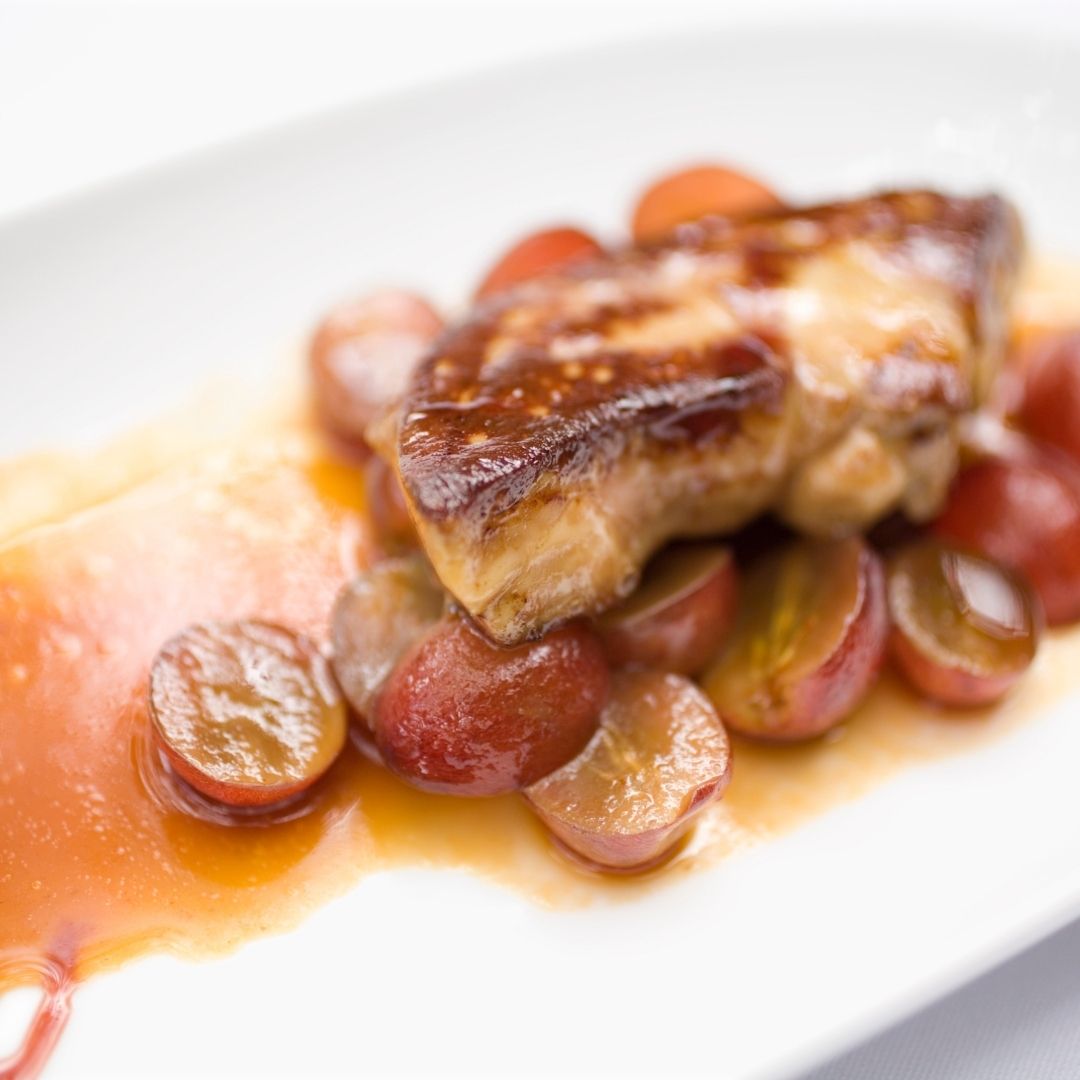 2. Foie Gras Mini Burgers
Serving: 4 people
Ingredients:
Preparation:
STEP 1
Sweat the apple in butter and 4 tbsp. sugar for approximately 15 minutes. Purée, then strain and keep warm.
STEP 2
Simmer the onion with 4 tbsp. sugar and balsamic vinegar for about 20 minutes, scraping the bottom of the pan constantly. Keep warm.
STEP 3
Toast the brioche halves, then spread the apple compote on the bottom piece.
STEP 4
Put the foie gras on top of the apple compote. Spoon onion marmalade on top. Top with bun.
STEP 5
Served immediately with arugula dressed with olive oil, salt and freshly ground black pepper.
3.Seared foie gras on toasted brioche with caramelized orange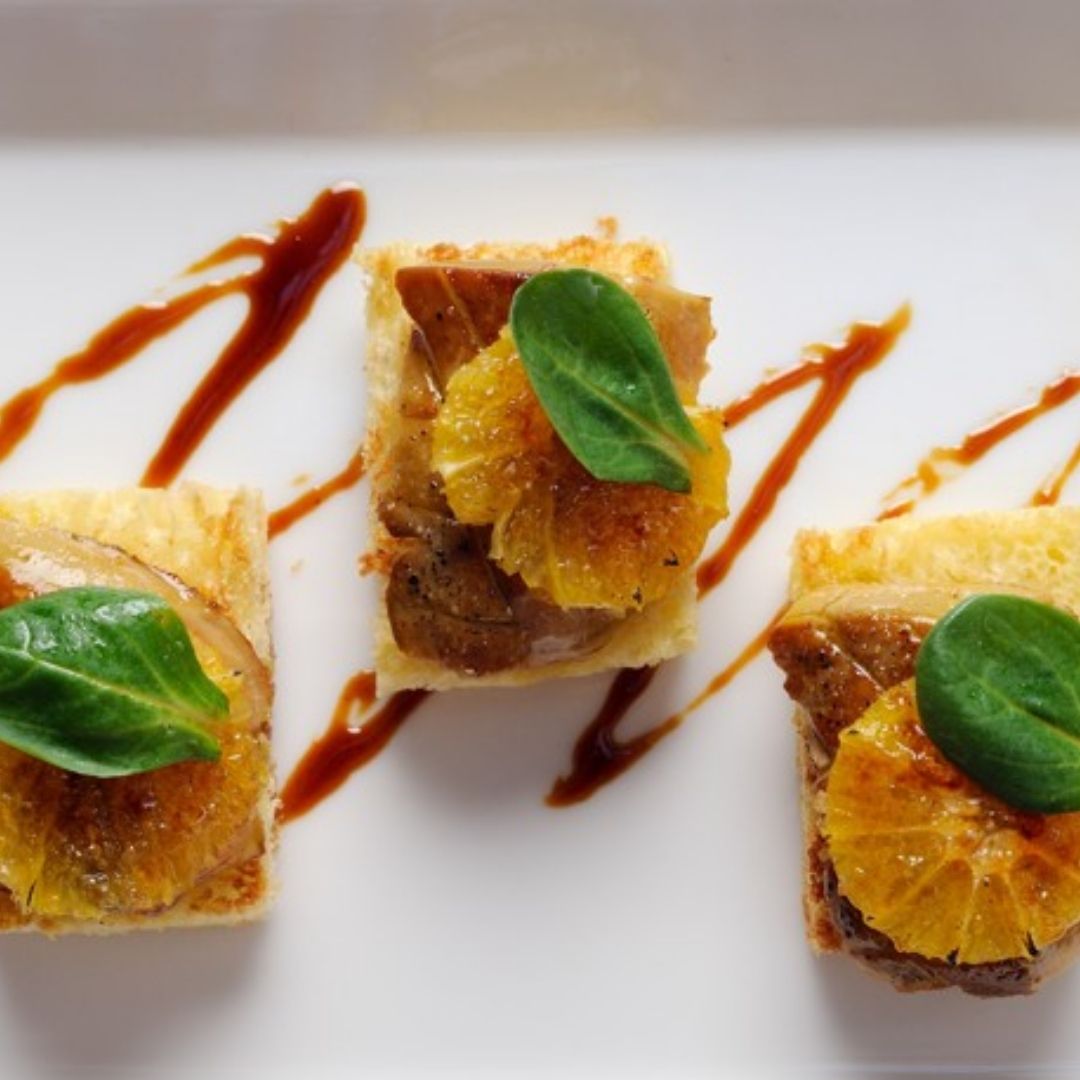 Serving: 6 people
Ingredients:
6 slices of brioche loaf
1 orange, peeled
3 tbsp of light brown sugar
TO PLATE
2 handfuls of salad mâche leaves
1 dash of Madeira
Preparation:
STEP 1
Take some brioche and slice it to approximately 5mm thick. Cut it into rectangles around 2.5cm x 2cm toast it and keep it warm
STEP 2
Sear the foie gras in a very hot pan on both sides quickly.
STEP 3
Remove from the pan and place on an oven proof tray or dish
STEP 4
Take an orange and peel it with a knife, slice it into slices approx. 5mm thick and trim into even-sized discs approximately 1.5cm in diameter. Put the orange discs onto a heatproof tray and sprinkle with light brown sugar. Caramelize with a blow torch.
STEP 5
To finish off the dish, warm the foie gras through in an oven set to 320°F. Slice the foie gras and lay it on top of the brioche and then put the orange on top. Garnish with a small salad of mâche leaves and a sprinkle of Madeira